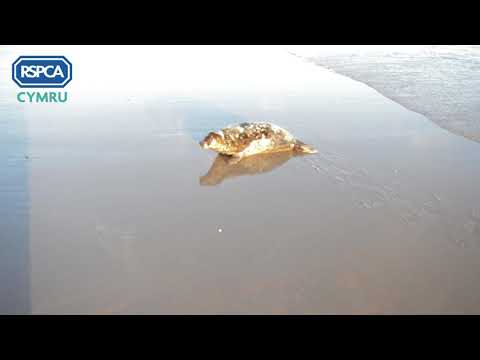 A seal pup rescued by the RSPCA in West Wales has been returned to the wild after a period of rehabilitation in the charity's care.
Stunning video footage shows the moment RSPCA staff returned the pup to the wild, on Friday December 8, after two-months of care at wildlife facilities in Hastings. The release took place on a beach adjacent to the RNLI's Horton and Port Eynon Lifeboat Station, in the Gower.
RSPCA Cymru has – in recent months – dealt with a "very challenging" period in terms of seal rescues, with dozens brought into the charity's care in need of support, including in the aftermath of the recent Ophelia and Brian storms.
The male pup was rescued by the RSPCA after being found at Quay Parade in Aberaeron in early August, underweight, wounded and high-up on the beach some distance from the water. The pup was fed zoolyte – a special type of food to help him recover – before being transferred to RSPCA Mallydams Wood, where he was rehabilitated by specialist staff.
RSPCA animal collection officer (ACO) Ellie West said: "Returning seal pups like this to the wild is one of the most rewarding parts of the job.
"The poor pup had been through a difficult time, and was found alone, underweight and injured in Aberaeron.
"However, after a period of care at our specialist centre in Hastings, he was brought back to Wales, and returned safely back to the wild – happy and healthy – in the Gower.
"We're grateful to those at the RNLI's Horton and Port Eynon Lifeboat Station, who helped us access an area to safely release this beautiful pup."
ACO West noted that this pup's rescue was part of a period of an "unprecedented" focus on seal rescues in the region.
She added: "RSPCA Cymru has faced a very challenging few months undertaking exceptionally high, unprecedented numbers of complex seal rescues across South West, and West Wales.
"Approximately 40 seals have been rescued by RSPCA officers following the weather conditions caused by the Ophelia and Brian storms – as part of some 96 in total rescued since early September.
"Most of these rescues have taken place in Pembrokeshire, but we have been working across the entire region's coastline, from Borth, to the Gower, and Porthcawl.
"This quantity is far higher than the previous year – highlighting what a huge recent commitment this has been for RSPCA officers on the frontline, and our wildlife centres that have been working to rehabilitate these poor animals."
If you wish to help RSPCA Cymru support seal pups like this, you can donate online. The RSPCA is a charity and rely on public donations.